Conversational copywriting is the
future of selling online.

Why is this the future? Because your readers don't like being sold AT online.
They don't like pushy, loud sales copy.
They don't like in-your-face, old-school, broadcast sales pitches.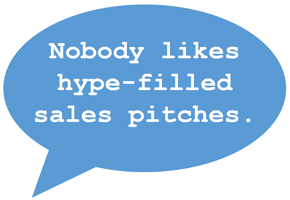 This is why so many people install ad-blockers, and why online conversion rates are so low. Prospects are just turned off by that traditional copywriting approach.
Sooo....
If you can't sell with traditional sales copy, how CAN you sell online?

You make the sale with conversational copywriting.
With conversational copywriting you're not selling or talking AT your audience.
You're writing in a way that engages WITH your audience. It's more respectful. It's the anti-hype.
It's about engaging your audience more fully, connecting with them emotionally, and drawing them into a place where they feel ready to buy your product or service.
Who is this course for? Who will get the most value from it?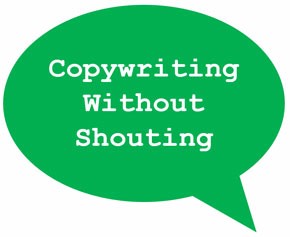 This course is for copywriters, growth hackers and marketers who don't like hype.
It's for writers who are looking for an effective way to drive more sales... while at the same time building deeper relationships with their prospects and customers.
Master the craft of conversational copywriting and you'll be writing powerful sales copy, without resorting to old-school, in-your-face, high-pressure sales tactics.
If that sounds like you, you're also going to LOVE the community that's growing up around this course.
We all love the craft of copywriting, but we have no time for the "dark side" of sales copywriting. We want to feel proud of the work we do. Always.
What you can expect from this course...
Over the course of 21 instructional videos - plus BONUS materials - I'll take you through numerous before and after examples, and over half a dozen homework exercises.

I'll teach you how to write conversational sales copy that creates a powerful desire for your products or services, and converts more browsers into buyers.
You'll learn how to...
(The complete curriculum is shown below.)
And when you've finished every lecture and the bonus materials...
Stay tuned, because I'll be adding more lectures and bonus materials on an ongoing basis. Pay once - right now - and you'll have access to the course forever... even as the value keeps rising with all the extra materials I'll be adding.
One more thing... write to me!
After looking through the curriculum below... if you have any questions you'd like to ask about this course before enrolling, please email me at nick@nickusbornetraining.com.
I'll get back to you as quickly as I can.


What people are saying...
"It opened me up to a completely new way of communicating online. Thanks." Andy Dragt

"Conversational writing suits my style & personality much better than 'traditional' copywriting, so I'm sure I'll be putting the info in this course to good use! Thanks again." Toni Milne

"The course was great. I learned a lot. The homework was FABULOUS FUN. I keep redoing the tasks to see if I can get them shorter. That's only because I tend to talk. . .and talk. Conversationally speaking, this course is worth the bucks." Holly Helscher

"He demonstrates how to create "emotional" connections via conversational copy, and how this is the future of selling online. I appreciate Nick's insights; and his logical, matter-of-fact delivery. Thank-you so much!" Constance Revoldt

"Nick does a great job of explaining the lessons. He holds my attention! I really love the Q & A videos!"

Kevin Watson